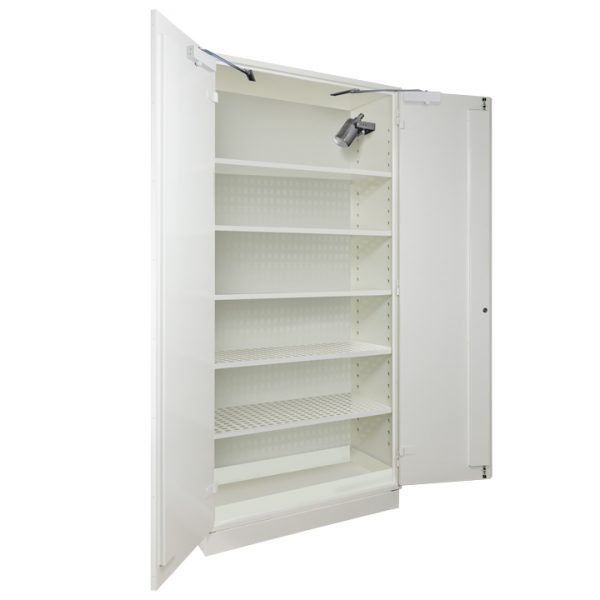 external dimensions
2095 x 1000 x 600
interior dimensions
1945 x 950 x 550
Weight
176kg
Safety cabinet for lithium-ion batteries
5 shelves E04LI + Fire extinguisher EX100LI and cable duct in upper part
Compliance
Non-flammable insulating panels, classified A1 according to NF EN ISO 1182, between the walls. Standardised pictograms in accordance with ISO 3864, ISO 7010 and NF X08.003, and with European Directive 92/58/EEC.
Construction
Double wall 12/10 steel construction. Mineral fibre insulation 20 mm thick according to NF EN ISO 1182. White epoxy paint RAL 9010.
Standardised symbols "noxious", "toxic" or "flammable" (to be specified when ordering). Adjustable retention shelves on racks.
Equipment
Ventilation by means of a lateral inner duct with opening at the top and bottom (Ø 100 mm). Roof ventilation outlet with connection sleeve (Ø 100 mm). Hinged doors with reinforced hinges with manual closing.
Two-point locking. Key lock.
Do you have a specific need?
We have a solution
Check our selection guide to find the right lithium-ion battery equipment for your needs. If you would like more information, please contact us!
Armoireslithium.fr, un site de la société © ALLSAFETY sas 2018 – Tout droit réservé – Le fabricant se réserve le droit de modifier les caractéristiques techniques sans préavis