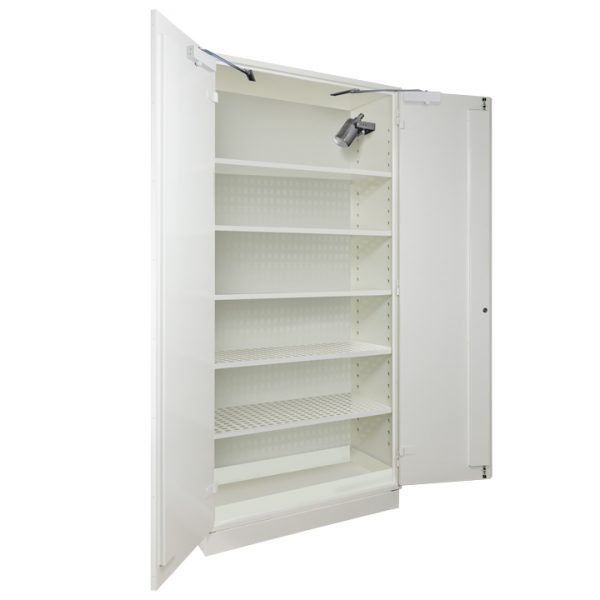 external dimensions
2095 x 1000 x 450
interior dimensions
1945 x 950 x 400
Weight
154kg
Safety cabinet for lithium-ion batteries
5 étagère E06LI
+ Extincteur EX100LI et passage de câble en partie haute
Conformité
Plaques isolantes non inflammables, classées A1 selon la norme NF EN ISO 1182, entre les parois. Pictogrammes normalisés conformes aux normes ISO 3864, ISO 7010 et NF X08.003, et à la directive européenne 92/58/CEE.
Construction
Construction en acier 12/10ème double parois. Isolation en fibre minérale de 20 mm d'épaisseur selon la norme NF EN ISO 1182. Peinture époxy blanche RAL 9010.
Symboles normalisés ''nocif'', "toxique" ou "inflammable" (à préciser à la commande). Etagères de rétention réglables sur crémaillères.
Equipements
Ventilation par conduit intérieur latéral avec ouverture en partie haute et basse (Ø 100 mm). Sortie de ventilation en toiture avec manchon de raccordement (Ø 100 mm). Portes battantes avec gonds renforcés à fermeture manuelle.
Fermeture deux points. Fermeture à clef.
Do you have a specific need?
We have a solution
Check our selection guide to find the right lithium-ion battery equipment for your needs. If you would like more information, please contact us!
Armoireslithium.fr, un site de la société © ALLSAFETY sas 2018 – Tout droit réservé – Le fabricant se réserve le droit de modifier les caractéristiques techniques sans préavis