Case for Lithium Batteries | Range CSBL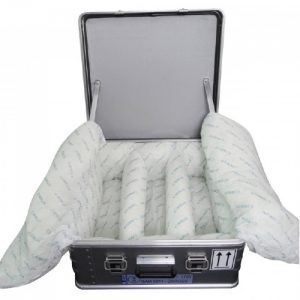 external dimensions
250 x 600 x 600
interior dimensions
220 x 550 x 550
Weight
12kg
Safety box
for 3 lithium-ion batteries

Information
Hazardous goods packaging certified for lithium-ion batteries UN 3480, UN 3481.
Suitable for the transport of prototypes, damaged or defective batteries, batteries with critical defects as well as for disposal and recycling.
Successful fire tests also for critically defective lithium batteries above a rated capacity of 1,000 Wh (instructions to be observed can be obtained from ZARGES).
Maximum outside temperature below 100°C, no bursting or bursting in the event of a disaster.
High protection against puncture, also suitable for powerful batteries such as Power Tool batteries.
Absorbent and cushioning material is non-flammable, electrically non-conductive and dust-free.
Ideal for storing lithium-ion batteries.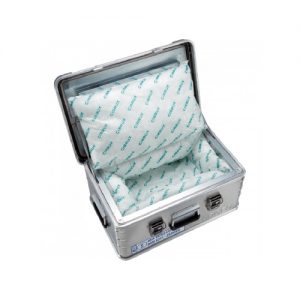 external dimensions
250 x 600 x 400
interior dimensions
220 x 550 x 350
Weight
10kg
Safety box
for lithium-ion batteries
Informations
Conteneur spécial de qualité supérieure en aluminium.
Rembourrage et matériel absorbant résistant au feu en fibres de verre texturées.
Equipement intérieur sans poussière.
Contrôlés et homologués selon les dispositions UN comme emballages pour produits dangereux, d'où transport public conforme aux prescriptions possibles.
Permet de conserver et de transporter les batteries au lithium défectueuses ou abîmées, selon les classes ADR SV 376 et les prescriptions P908 en matière d'emballage.
Nouveau : conformité aux exigences du BAM basée sur la prescription spéciale SV 376 relative au transport des batteries au lithium présentant des défauts critiques.
Essai de résistance au feu passé avec brio : les flammes ne se propagent pas aux batteries voisines, la température à la surface du conteneur reste inférieure à 100°C.
Do you have a specific need?
We have a solution
Check our selection guide to find the right lithium-ion battery equipment for your needs. If you would like more information, please contact us!
Armoireslithium.fr, un site de la société © ALLSAFETY sas 2018 – Tout droit réservé – Le fabricant se réserve le droit de modifier les caractéristiques techniques sans préavis